"Breitbart squealed at pressure from leftist CNN, which apparently has anonymous pro-Islam sources at Breitbart, and fired her.
Why is Breitbart silencing Katie McHugh for telling the truth about Islam?
"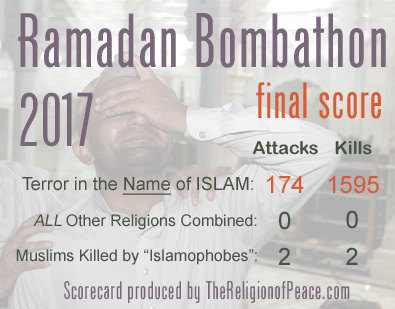 attack in Melbourne, Australia: Since then, TheReligionOfPeace.com reports that 592 people have been killed in 55 apparently Ramadan-related attacks
An Algerian student claiming to be an ISIS soldier shouted 'this is for Syria' as he attacked a police officer outside Paris's Notre Dame Cathedral
"Time to impose PUBLIC CONTROLS on America's Google, YouTube, Twitter and Facebook social media giants who have allowed Terrorist Radicalization and Terror Plot Planning to go unchecked on their networks:"
meanwhile, on fox: "This president should apologize for what? … For calling out radical Islamic terrorism for what it is?" Kellyanne Conway
the gates of hell shall not prevail against it.