Message of Our Lady Queen of Peace- August 23rd, 2016
"Dear children, the great storm will yet come and the vessel will be violently hit. Give the best of yourselves and everywhere testify to your faith. Do not fall back. Love and defend the truth. The devil is causing confusion, but the victory will be for My Jesus. Courage. Seek strength in the words of My Jesus and in the Eucharist. I am your Sorrowful Mother and I suffer because of what is coming to you. Do not let the flame of faith go out within you. Whatever happens, stand firm on the path I have pointed out to you. This is the message I give you today on behalf of the Most Holy Trinity. Thank you for having permitted Me to gather you here once more. I bless you in the name of the Father, of the Son and of the Holy Spirit. Amen. Be at peace."
"... Much change is underway. Rejoice in this. I Am is pleased with the progress that has been made. Continue to pray, Beloved. Satan rages. ..."
message to jabez 8/28/16
Blessed be the Lord, my rock, who trains my hands for war, and my fingers for battle
(Psalm 144:1)
August 11, 2016 "My child be at peace, it is I your Lord and God and Father. Write this down. The time is upon you, evil is upon the world now my son and it will start to manifest itself in ways you cannot believe would occur. Do not worry, for when you see this you will know that the sands of the hourglass are running out. Pray my son and ask all of my faithful children to pray so that you may be protected, especially your senses, from the attack of the evil one. Soon my son, the devil will make his final attempt at the destruction of my church and of faith as you understand it. Remember what you heard many years ago about the onslaught of evil that was to be revealed; the sin against the innocent that was brought to light at the cost of the good name of my church. Do not leave Peter because of Judas. Follow my voice and follow the truth, you will know in your heart what is and what is not of me. Pray for the gifts of the Holy Spirit, especially the gifts of wisdom and understanding. Do not lose hope my children no matter what you see or hear, for all of this must occur. The great and terrible day must come so that Scripture can be fulfilled, but for all of you who have read them, then will come the triumph of good over evil. All of the sin and filth you are surrounded by will be no more, the influence of the evil one shall be broken and all who followed him knowingly shall be cast away to burn in the fires prepared for Satan and his angels. Be at peace my children and focus on me and the good things I have waiting for those who endure to the end. Pay no more attention to the news or your media which has been under the influence of evil as it has been rewarded with money and power, all of this a lie from the beginning. Spend your precious time looking upward and focusing on the good things your God has planned for all of you. Soon the battle will be at the doorstep of your heart, then it shall be over. That is all my son, now go and share the words I have given to you. I love you, amen."
"satan is rolling you like the wind rolls the waves of the sea...''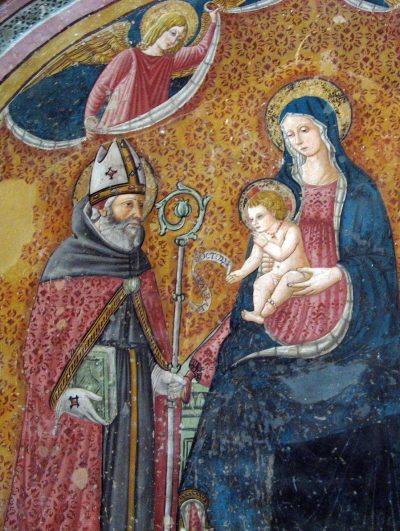 moved by the tears of his mother, Saint Monica
Too late loved I Thee, O Thou Beauty of ancient days, yet ever new! Too late I loved Thee! And behold, Thou wert within, and I abroad, and there I searched for Thee; deformed I, plunging amid those fair forms which Thou hadst made. Thou wert with me, but I was not with Thee. Things held me far from Thee, which, unless they were in Thee, were not at all. Thou calledst, and shoutedst, and burstest my deafness. Thou flashedst, shonest, and scatteredst my blindness. Thou breathedst odours, and I drew in breath and panted for Thee. I tasted, and hunger and thirst. Thou touchedst me, and I burned for Thy peace.