Locutions to the World - Apr 24th, 2014 - Mary
' I have spoken clearly enough. Leaders must be elected who cling strongly to national sovereignty and foster close ties among nations that respect individual nationalities and refuse to erase the boundaries created by God's plan. Any other path is a road to Satan's goals of a counterfeit gathering of the nations.'
'I order even the dew drops on the blade of grass. I know when each sparrow falls.'
wings of prophecy WEDNESDAY, APRIL 13, 2016
'America, your time draws near. Your enemies gather at your gates, and destruction looms near.'
4/10/16
"After Holy Mass I accompanied my two friends into the Blessed Sacrament Chapel. I recited the Divine Praises and at that moment our Lord Jesus appeared.
He said, "Valentina, I could not speak to you during Holy Mass because it was too noisy. I want to warn you of the danger of the time in which you are living . The terrible troubles that are now happening in the world, especially in the city of Brussels. So many innocent lives were taken by the terrorists. Satan, their leader is telling them what to do. He wants to kill and destroy as many people as he can."
"I want to warn you of terrorists. They are in every country. It is just a matter of time before they become active."
"Be alert, My people, protect and guard yourselves with your prayers. I don't want to scare you but the times in which you are living are not safe anymore in the world."
"I, Your Lord, Am very sad with pain in My Heart deeply to see what is happening."
"Once again, I warn you of these evil terrorists. Be vigilant to guard yourselves with prayer."
Our Lord then departed with a very sorrowful look on His Face.
Thank you Lord for warning us. Please protect us."
23 March 2016 St Patrick's Cathedral, Parramatta-Chrism Mass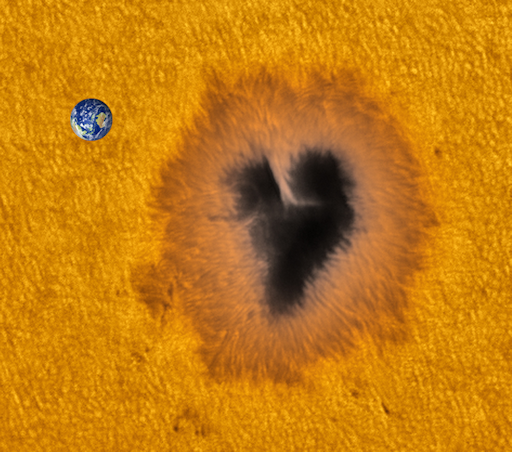 "The giant sunspot has morphed into a heart more than three times wider than Earth. Karzaman Ahmad of the Langkawi National Observatory in Malaysia photographed the active region on April 13th"