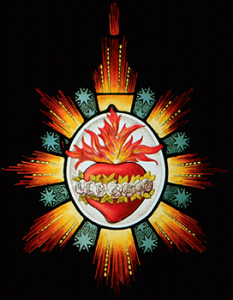 "My child Eileen, I tell you truly, with all the evil and negativity that the world is capable of, if My Light is nurtured and lives in just one soul, all the negativity that is a big part of the world will be negated and The Light will prevail."
1/9/16
† † † † † † † † † † † † † † † † † † † † † † † † † † † † † † † † † † † †
Pray, My beloved People,
pray for the Salvation of the souls.
At this instant, pray for the East of the United States;
sin reigns in some States.

Pray, My beloved People; the land continues to tremble
with force, ocean waters are agitated,
& some tsunamis will keep humanity in suspense.
Pray, My beloved People, pray; Italy will suffer for it.
My children, the climate will strongly scourge the Earth, it will make entire Peoples suffer mercilessly; this is when you will pray the Holy Trisagion and you will look for it and maybe you will not find it. WHY DO YOU WAIT FOR ADVERSITY TO APPROACH MY HOUSE?
Pray, My People, pray,
as the shaking of the earth increases.
Pray, My children, for Japan, for Chile,
and for the United States.

Pray and meditate the Holy Rosary;
live this prayer in truth and spirit,
this prayer from which the devil flees in horror,
The Etna volcano does not rest.