Beloved children of My Immaculate Heart:
YOU ALL LIVE WITHIN MY HEART WITHOUT DISTINCTION…
Beloved:
I GIVE MYSELF TO EACH ONE OF MY CHILDREN, I PENETRATE IN THE
HEART OF MEN SO THEY WILL REMAIN BESIDE MY SON, NOT ALLOWING
EVIL TO GRAZE WHAT IS DIVINE PROPERTY.
My daughter: Do you know why My Son and I come to give our Word to humanity?
Because man is the created not the Creator and therefore the Creator warns his children what they should know so they can freely make the decision to heed the Voice from Heaven, or continue in the mundane and plunge himself little by little in what it doesn't seem like sin but it is sin.
The inoffensive takes possession of the heart of man to make him immerse himself into the vice and from there to the sin. Man, like a magnet, walks on the path of pain, as a result of sin in which he remains.
I am sent by the Father that warns His children before the weakening of the human conscience, blinded by the lack of humility, rejecting the Calls from the House of the Father. IT WON'T BE UNTIL YOU LIVE THROUGH DIFFICULT INSTANTS THAT YOU WILL BELIEVE IN OUR CALLS.
My instruments are attacked, as part of the knitted plan by those who prepare the settings of evil, and My children, ignorant of this reality, discard everything that the Paternal House warns them about.
You are called to love each other as brothers, and instead you fight one to another to obtain first place.
Beloved daughter:
HE WHO ANNOUNCES AND DENOUNCES IS DESPISED, SLANDERED AND PERJURED…
HE IS THE TRUE MIRROR SERVANT OF MY SON, TO BE LIKE HIM. EVERYONE IS THE CHURCH, ONLY WITHOUT UNITY.
Man, creature of God, has forgotten that the Power of God is infinite and gives to each creature what is His Will so that each one will fulfill its mission within the Mystical Body. In this way it happens, as in all systems, those exist that are depredatory and drag their fellowman in the wrong paths.
IN THIS INSTANT, PRAYER HAS BEEN PASSED TO THE LAST PLACE, THE HUMAN REACTION, CONTRARY TO THE WILL OF GOD, IS FRUIT OF THE LACK OF PRAYER, THAT DOESN'T ALLOW DISCERNMENT IN THE HUMAN CREATURE.
The influence of the mundane together with the misused of technology, will give as fruit the loss of souls. The lack of knowledge of My children allows the enemy of the soul to keep them away from the Calls from Heaven. The arrogant destroys, the humble unifies.
MY SON CAME TO EARTH AND WAS NOT RECOGNIZED.
THE SO-CALLED LEARNED FOUGHT HIM UNTIL THEY PUT HIM TO DEATH ON THE CROSS, DRAGGING THE PEOPLE. MY SON GATHERED WITH THOSE WHO DID NOT BELIEVE IN HIM, AND WITH THOSE WHO PROFESS OTHER BELIEFS, HE HAD THE SINNERS DRINK THE WATER OF HIS WORD SO THEY WOULD CONVERT.
MY SON DID NOT COME FOR THE JUST, BUT FOR THOSE WHO WERE IN THE WRONG PATHS.
Man condemns upon what he sees superficially, poor creatures! Humanity unceasingly submits itself to ignorance, carrying a heavy cross, that has been imposed upon themselves.
The power of men that control humanity, maintains hidden the pain they prepare, guided by the evil one, to take humanity to the Great Tribulation.
THE MISSION OF THE FORCES OF EVIL IS TO SEPARATE THE PEOPLE OF MY SON FROM THE TRUTH, SO THEY WON'T RETURN TO THE PATH AS CHILDREN OF GOD. They make them fight one another to introduce them incredulity, they investigate what contains no contradiction so My children will not be alerted from the road that they travel, which is not the one that My Son desires; sin is the way to perdition.
I feel pain because I see how man does not discern, but follows the steps of other men and see them as if they were gods, though these men do not bring reconciliation of the human creature with its Creator, placing the Sacrosanct Trinity in second place, this being a heresy.
Until the instant before evil, in which the man of God will recognize that he has not fulfilled the Commandments and has loathed the Divine Word, he will not obtain true Peace.
I am unity, I call upon My Children to keep them awake praying and nourishing from the Body and Blood of My Divine Son, heeding the law and acquiring the knowledge of the instant in which they live, previous to the great conflicts that will exterminate a large amount of My innocent children.
HUMANITY IGNORES THE POWER OF ITS CREATOR LIMITING HIM TO THEIR SURROUNDING AND DO NOT TAKE INTO CONSIDERATION THAT MY SON DOES NOT ACT WITHOUT WARNING HIS CHILDREN, FOR THEM TO RETURN TO THE RIGHT PATH. The worldly noise keeps the man's mind in the insignificance, thus this being a weapon of evil to take hold of the souls.
My daughter:
Do not falter, continue to warn unceasingly, the depredatory will not rest, nor My Heart will separate from you, nor from My children to give them strength so they won't fall prey in the hands of those who wish to keep them away from salvation.
The earth that has cradle man shakes before man itself, the violence generated by man blind before His God, will not stop and the tears of man will flow like rivers when man recognizes the scorn towards His Creator. WHAT HAS BEEN CREATED BY THE DIVINE HAND ADORES GOD AND FULFILLS ITS MISSION FOR WHICH IT WAS CREATED, MAN REBELS AND KEEPS AWAY FROM HIS GOD.
My beloved:
KEEP PRAYING AND WITH INTERIOR SILENCE BE ABLE
TO FIND THE WAY, THE TRUTH AND THE LIFE.
Pray for your brothers, for those who suffer all kinds of violence or ignorance.
Pray, the Earth will shake strongly. Pray for Japan.
Pray, the nuclear energy, the scourging of man, will continue to advance.
The terror goes from Nation to Nation…, violence is Satan's weapon. DO NOT FORGET THAT I WILL CRUSH HIS HEAD AGAIN AND THE PEOPLE THAT MY SON HAS ENTRUSTED TO ME WILL BE FREED FROM THE SLAVERY OF EVIL, and man, after the Purification, will seek on his own the comforting Balsam of its Creator, and I as Mother of Love, will welcome you within My Immaculate Heart.
Do not drift away from the true path; do not listen to the voices of those who plot with the purpose to keep you away from My Son.
THESE ARE INSTANTS OF INSTANTS, THE EVIL POWER IS GETTING STRONGER, BUT ONLY ONE WORD FROM MY SON IS ENOUGH AND YOU WILL BE FREED FROM THE CHAINS OF EVIL, IF YOU RESOLUTELY REPENT AND RENOUNCE EVIL.
I, MOTHER OF THE DIVINE LOVE, CONTINUE UNCEASINGLY IN SEARCH OF MY CHILDREN, AND I WILL NOT BE SILENT BEFORE THE THREATS OF MEN, NOR BEFORE THE ATTACKS OF EVIL WHICH I WILL EXPOSE.
Children, the Sun shines for everyone, raise your eyes to the Heavens and do not hide the Signs of Times foolishly.
Love conquers, if man is love.
I BLESS YOU, DO NOT FEAR, I REMAIN WITH EACH ONE OF YOU.
May My Blessing be upon you.
HAIL MARY MOST PURE, CONCEIVED WITHOUT SIN.
HAIL MARY MOST PURE, CONCEIVED WITHOUT SIN.
HAIL MARY MOST PURE, CONCEIVED WITHOUT SIN.
My beloved People:
MY PALPITATING HEART REMAINS AND WILL REMAIN WITH MY CHILDREN.
I DID NOT GIVE MYSELF SO THAT MY PEOPLE WILL PERISH, BUT TO GIVE THEM NEW LIFE AND AN ABUNDANCE OF LIFE.
As a Father, I love you…
As a Father, I announce to you so you won't perish…
As a Father, I permit you to be purified and that you will be amended…
My Most Pure Mother spotless without sin gives you Her Legacy of faithfulness and obedience for you, beloved children, to come out of that which is binding you and which transforms you as creatures contrary to My Law and to My Love. MY MOTHER DOES NOT REJECT THE CALL OF HER CHILDREN…
There will be an instant in which the boat will appear to sink in the middle of a strong storm.
My Mother will be the Rescuer
of the lost souls that seem to sink in the abyss of the turbulent sea of unlimited sin.
Whoever honors My Mother and gives testimony of My deeds and actions, is transparency of kindness, humility, patience, understanding, charity and faith. It is also a creature that shines without wanting to, since like My Mother, sees My Image in his fellowmen.
CHILDREN, MY MOTHER ACCEPTED TO CONTINUE TO BE MOTHER OF HUMANITY AND WILL NOT FALTER IN HER STRUGGLE FOR SOULS.
I shared My Martyrdom with Her, therefore My Mother's Martyrdom has not ended, it continues with each one of you, because it was My Testament when I entrusted to Her My People.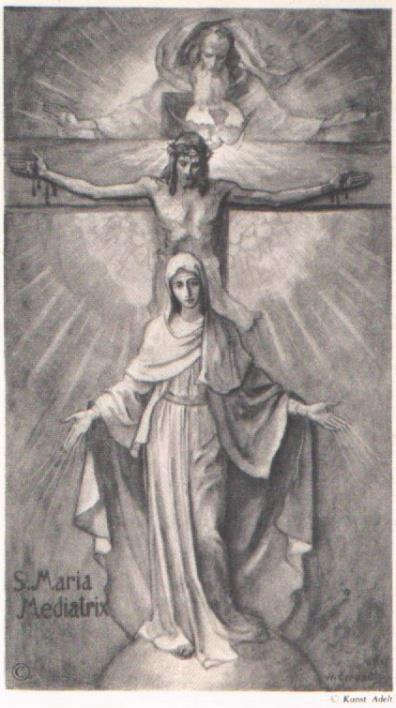 Beloved children, My House is a dwelling place prepared for each one of you to enjoy Eternal Life; My Mother will lead you to Me.
I call you through My Prophets, for this is My Will: to grant to all My Children every opportunity to change and make amends. My Mercy is the center of My Love, it grants you all the opportunities, because you are My children.
You do not walk towards Salvation if you do not want sacrifice, renunciation, humility and the true life.
You do not walk towards Salvation if you submit yourself voluntarily to be tortured in body and in spirit by all the vices created, not only by the evil, but by yourselves.
Humanity wanders around devoid of thoughts or reflection of their words or actions; they are repeaters of the bad actions and deeds of others. The widespread mass has been successful in preventing My children not to realize what offends Me,
but to be accepted in the society in which they move
; even though this means to continue in a constant wave of sins each time more serious and more enslaving.
My beloved, man knows pain but soon forgets it; as soon as it's gone, he forgets it. Since pain is reason for atonement, they use it instead, to blame me for everything that generates suffering.
Oh the loneliness that My People plunge me into!, ripping each other up like wild animals, surrendering to evil with pleasure, since they forget Me for the temporary and mundane things, covered in mud with all kinds of offensive mockery. They do not awaken before the control of power, which instead they get used to it easily, surrendering more and more to all demands, following men the same as you, will continue to be limited and mortals.
Beloved children:
THIS GENERATION MUST ATONE FOR ITS SINS, WHICH THEY DO NOT FIND, BECAUSE SIN HAS BEEN ABOLISHED AS SUCH AND HAVE ADOPTED LIBERTINISM AS A MEANS TO SURVIVAL. They continue in inertia that provokes the bad actions and the conscience remains stagnated by the creature's own will withering the mind that acts by inertia.
THIS GENERATION WOUNDS MY MOST HOLY BODY TIME AND AGAIN, little by little Satan snatches My children, appearing with false masks, generalizing the most absurd and most devastating sins. Satan has his demons tempting souls constantly; because of the separation and distance in which they keep Me.
MY PURE AND VIRGINAL MOTHER IS THE ONE WHO WILL CRUSH SATAN, CASTING HIM TO THE ABYSS WHERE HE WILL NOT BE ABLE TO COME OUT EVER. For that My children must renounce sin, not offend Me and must again call me Father, and to My Mother: Mother, so by your own will, you give us the joy of welcoming you for what you are: Our children.
My beloved, pray for San Francisco,
it will be shaken violently and a volcano will emerge from the bowels of the sea.
My beloved, communism is moving disguised in sheep clothing, its claws will be an unexpected scourging.
My beloved, France and the United States will suffer.
Beloved, I send the blessing to My People, My Mercy is inexhaustible; but it remains before you before My Justice comes to the ones I love.
My Word will be passed from creature to creature, after the imposter becomes public and My children are oppressed…
MY HELP WILL COME FROM MY HOUSE TO YOU, AS SPIRITUAL FOOD SO YOU WILL RETURN TO MY FLOCK. WHEN THE FAITH IS DENIED, MY MESSENGER WILL COME TO GIVE STRENGTH TO MY PEOPLE, TO GIVE TESTIMONY OF LOVE FOR MY CHILDREN AND THE DRY TREE WILL COME ALIVE AGAIN, BECAUSE I REMAIN WITH MINE, I DO NOT ABANDON THEM.
Beloved, awaken! My Love will be poured out upon each one, you will see yourself truly, exactly as you are and; you will see how much you have offended Me and how much you have loved Me in your fellowman.
Love My Mother; allow her to cradle you in Her Most Blessed Arms, love the Queen of the Heavens and Earth.
I bless you, beloved children.
Your Jesus.
HAIL MARY MOST PURE, CONCEIVED WITHOUT SIN.
HAIL MARY MOST PURE, CONCEIVED WITHOUT SIN.
HAIL MARY MOST PURE, CONCEIVED WITHOUT SIN.