St. Seraphim of Sarov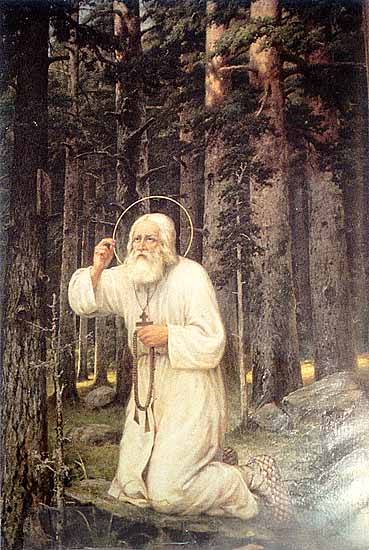 on fasting
One should take enough food everyday to strengthen the body, so that it can be a friend and helper to the soul in accomplishing virtues: otherwise it can happen that through the exhaustion of the body the spirit can weaken. On Wednesdays and Fridays, particularly during the four Lenten periods, follow the example of the Fathers and take food once a day — and the Angel of the Lord will affix himself to you.
on The Spiritual World
Nothing so aids the acquiring of internal peace as silence, and as much as is possible, continual discussion with oneself and rarely with others.
If it is impossible not to become indignant, then at least restrain your tongue according to the words of the Psalmist: "I am so troubled that I cannot speak" (Ps. 77:4).
I Am Mercy for those who quickly seek Me, fighting against their own human egoism, to free themselves from their own will contaminated by vanity, pride, anger, hypocrisy and by lies. The one who calls Me Father and forgets that I call you to be one in Me, lies to himself.
IN THIS INSTANT, FRATERNITY IS THE WEAPON THAT KEEPS SATAN FROM ENTERING into those who in My Name and in that of My Mother, gather in My Will preparing themselves in spirit and being action to give testimony to My Word, alerting their brothers and sisters about the present instant and about the imminent proximity of the fulfillment of the events that will purify humanity and that My Mother, for love of Her Son, has transmitted.
WOE TO THOSE WHO, LIKE IMPENETRABLE ROCKS, ARE A REASON FOR DIVISION!
Pray My children, pray; war approaches causing damages, mutilating innocents, with weapons outside of human control; the man of science will be the executioner of his own race.
revelaciones marianas MARCH 3, 2014
Beloved children of My Immaculate Heart, I am Mother of Love, but I am Mother of the Word, I am Mother of the Truth and do not hide from those who are Mine the imminent scourge that walks upon the Earth.
Do not expect the appearance of the antichrist before you, look at his work and his acts in your midst, especially that of his powerful arm: communism. The irresponsibility of science ill-used by man through scientists that have not had any reservation in creating weapons of mass destruction, will be the executioner through which millions of My children will die.
revelaciones marianas MARCH 5, 2014
AS FOR ALL PRIVATE REVELATIONS, THE READER NEEDS TO PRAY TO THE HOLY SPIRIT FOR GUIDANCE IN DISCERNING WHAT ALONE IN THE MESSAGES ARE THE TRUTHS WHICH THE LORD WISHES TO COMMUNICATE.
Messages from Jesus Given to a Chosen Child in Chicago
(March 15-21, 2014)
joycelist2
March 15, 2014 (9:29am)
Tell My beloved children not to believe anything they hear in the media regarding what is transpiring in Europe. What they say is not true. Both sides are preparing for war no matter what is said otherwise. My dear ones, many elections are happening in your country. Pray that only pro-life candidates win. These are the only ones who can help your country even if you disagree with some of their other positions.
Those who are pro-life have good consciences and will make wise decisions.
Oh, My children this year will be like none other that you have ever experienced before. There will be diseases that have no cure or antidote. Some of these will be devastating as there will be much physical pain caused by the illness. Oh, My children, remember it is your sins that are bringing all this evil into your lives. Your country has to be cleansed before it will go back to sound reason and become One Nation Under God again. Your Church is also going to go through a thorough cleansing which will involve tremendous suffering and persecution for the faith. You will never survive if you are not in prayer and in the state of grace. You had better pray very hard for your loved ones living in sin. They will be among those who will have the most suffering. So many of My children think there is no sin by living in relationships without the Sacrament of Marriage. This is a lie of the devil. They must repent of this terrible sin. Please advise your priests to pray for this Pope. You don't know how much longer he will be in office. Right now it looks on the surface that everything is going well in the Vatican and the Pope can come and go as he pleases, but this is not true. He is followed everywhere he goes and his every move is reported to those trying to remove him from the papacy. Pray, My children, pray. There is so much suffering coming.
I love you, Jesus.
March 16, 2014 (10:47am)
Tell My beloved children to be prepared for war. Both sides of the conflict are getting ready at the present time and are putting all their military machines in place. There is so much speculation in the media as to when or if this could possibly happen. The Administration is well aware of the steps being taken and also the real purpose of the war. Pray that when it starts it will be over with soon with few lives lost. These two leaders are determined to show a force of power while pretending to do everything to prevent it. The devil is causing all this vying for attention around the world. My dear ones, the good and holy people trying to do all they can to bring order and integrity back into your nation are waiting patiently as you are for your president to be impeached. There will be shock waves around the world since most people aren't aware of all the scandals perpetrated by this president. He is waiting as well since he realizes the likely outcome. He is doing everything he can to prevent this. Be on your guard for this man to take drastic measures to stop this. Oh, My children, I ask again for prayers for your Pope. The evil men in the Vatican who want him out are waiting for the right opportunity to replace him with their own man. As you are aware the Pope to follow your holy Pope will be the anti-pope and it is then when dire things will take place in the Church throughout the world. This is the time that has been spoken of in the Bible when there will be a man of perdition an abomination to the Lord. Pray and fast, My children, your Church is about to be cleansed of all its inequity.
I love you, Jesus.
March 17, 2014 (9:36am)
Tell My beloved children there will be a third world war in spite of what you are hearing in the media. There are millions of dollars involved. Oh, My dear children, greed and power are what is driving these men to want war. They have no concern for those who will lose their lives. My dear ones, there is so much going on right now behind the scenes with your holy Pope. He is like a prisoner since he is being followed and listened to everywhere he goes. Remember, My children, only vote for 100% pro-life candidates. These people will do the right thing regarding the issues you don't agree with. If you trust in the Lord and vote pro-life I will see to it that they will vote for the good of the country and for the states they represent. We are now in the throes of the spiritual battle. The enemy is getting more aggressive since he knows his time is short and I, Jesus, am coming back to reclaim My world and My Church. Be prepared My children. You are now in a battle for your souls. Pray, pray, pray.
I love you, Jesus.
March 18, 2014 (9:23am)
Tell My beloved children the time is now. All that has been prophesized in these messages is about to happen. If you followed the advice of these messages and prayed and gone back to the Sacrament of Reconciliation or for those who are not Catholic you turned to the Lord asking forgiveness for your sins, you will be prepared for what is coming. If on the other hand you just read the messages out of curiosity and didn't follow the advice then God have mercy on your souls. You will experience the most suffering. Anyone who suffers physically now, your sufferings will increase. All those in the remnant will be protected. They will still have much to suffer but will have God's peace knowing of his keeping you safe with your families you have been praying for. You may think this will never happen in your time, My children, but now we are not talking years but months. Get to Mass as frequently as you can to gain graces to sustain you as you go through the fire of cleansing. Oh, My children, don't stop praying for your holy Pope Francis anything can happen at any time. He is so alone in his sufferings. There is so much more to tell you but it will be told gradually so you aren't overwhelmed and get discouraged. Remember, My children, your Mother Mary and I, Jesus, will be with you through it all.
I love you, Jesus.
March 19, 2014 (9:15am)
Tell My beloved children to take time today to pray for your Pope. He is so alone and desperate for help. My dear ones, both sides of the conflict in Europe are pretending to make negotiations for peace while they actually are preparing for war. Your president has American troops in all the strategic countries involved and also war ships and military equipment. The other side is doing the same. Enjoy yourselves with your families while there is still time. Oh, My children, there is so much harm coming to your country now that your president is soon to be impeached. There will be riots everywhere to protest this from happening. You were told this is the tribulation and now you are in it. Continue to pray for the man to replace your president. He is well prepared and ready to take over. This will be a shock to everyone since it will take a miracle for this to happen. Satan will try to thwart every plan to replace your president with a good man. Pray, My children, pray.
I love you, Jesus.
March 20, 2014 (9:32am)
Tell My beloved children to stay close to your families. These may be some of your last times to be together. Forgive all past hurts that may have kept you apart. Nobody is a perfect parent. Don't expect perfection in your parents. Everyone is given many graces when they have a sacramental marriage. Many of the graces have not been used to strengthen your marriages and selfishness took over in many cases. Your free will also played a part in whether or not you accepted the graces given in your lives. Accept responsibility for the wrong you have done in your marriages and ask God to forgive you. Oh, My children, there are so many marriages that didn't have to end in divorce. You are so stubborn and want everything your way. The time to let go of all the sins of the past is now. Make a good Confession and ask forgiveness of those you have hurt. Now you should be praying every day for your country and for your Pope. These are the most important intentions to pray for. Your country is in danger of being involved in a third world war and your Pope is in danger of losing his life. We need more prayers for God's Mercy to come upon the leaders who are causing all the trouble. Their souls need your prayers. Pray, My children, for all those who are unprepared spiritually for what harm is coming to your country and to your Church.
I love you, Jesus.
March 21, 2014 (9:29am)
Tell My beloved children to increase their prayers for your holy Pope Francis. He needs your love and support. He feels so abandoned. It may look like and seem that he can go anywhere he wishes, but that is not true. Pray also for the people in Europe who will be most affected by the war that is soon to erupt. These things all sound too difficult to believe, but they are going to happen. If enough of My children fasted on bread and water this war could be prevented. In the meantime your president is doing everything he can to bring down your country. It isn't because he doesn't know any better. He is deliberately destroying your country. He has made so many decisions that will affect your lives that he had no authority to do. The media continues to make him look good and promote all his propaganda. Oh, My children, there is so much evil in this Administration. Keep praying that your president's impeachment will happen as soon as possible before he can do any more harm.
I love you Jesus.
★
LOCUTIONS TO THE WORLD 3/ 7- /14
★
I am the mother of holy hope, & my children are without number. I bring fearlessness in the face of great odds. I bring patience when suffering seems interminable. I bring peace when the person is discouraged. I am the light on the horizon & the dawn that scatters the night. Let everyone invoke my name & hope will settle upon them. My hope says to darkness, "You shall not enter" & to evil, "You have no place in this human heart". In the end my Immaculate Heart will triumph.
LOCUTIONS to the WORLD ~ Jan. 25 - Feb.4, 2014