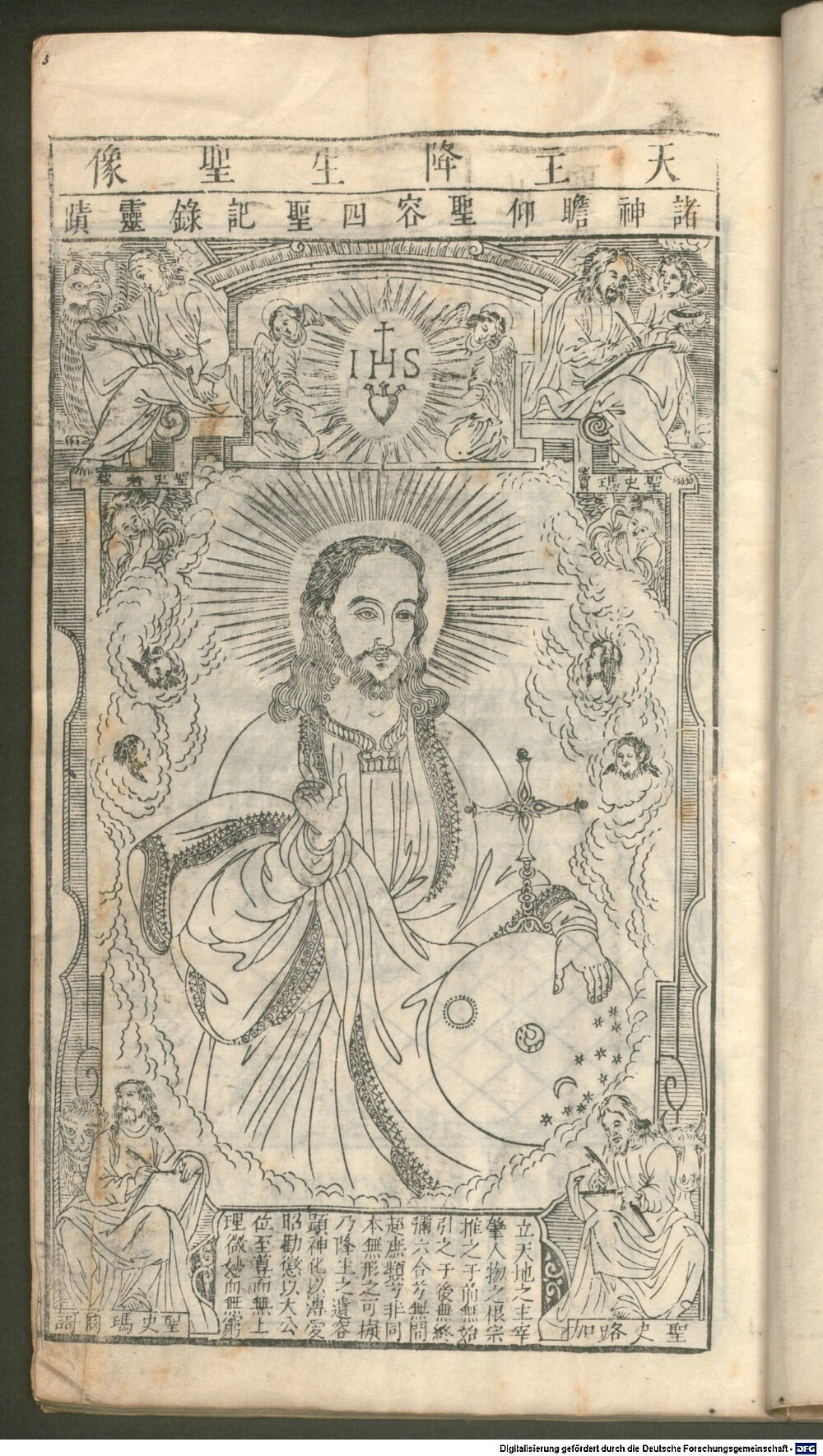 The Face of Christ in China
AS FOR ALL PRIVATE REVELATIONS, THE READER NEEDS TO PRAY TO THE HOLY SPIRIT FOR GUIDANCE IN DISCERNING WHAT ALONE IN THE MESSAGES ARE THE TRUTHS WHICH THE LORD WISHES TO COMMUNICATE.

Messages from Jesus Given to a Chosen Child in Chicago
(March 8-14, 2014) joycelist2

March 8, 2014 (1:03pm)
Tell My beloved children that time is running out for My Mercy. Please, My dear ones, there is no longer going to be another opportunity to get back into God's graces if you keep putting it off. Oh, My children, what can I say or do to convince you that your very soul is at stake by your not coming back to the Lord with repentance for your sins. My dear children, I'm sorry to tell you there will be another major war over the control of the country in Europe that your president is heavily involved in. He will be responsible since he sent others in his place to stir things up with the people. Oh, My dear children, this president just by the power hungry person that he is will cause this war. The leaders of the other country vying for power is more powerful and is willing to sacrifice many innocent lives to prove how strong he is. Pray for the poor innocent people who will lose their freedom, and their lives. Things are going to take a rapid change for the worse in the Vatican. The evil people who want your holy Pope out of office have devised a plan how they will accomplish this. Please pray for your Pope. My children, he is in dire straits right now and doesn't know who he can trust. Pray, pray, pray. There is so much that is going to happen in such a short time you won't be able to get over the shock. You are being told ahead of time so you can pray, fast and do penances for your holy holy Pope. God protect him.
I love you, Jesus.

March 9, 2014 (10:58am)
Tell My beloved children there will be major suffering for the people in Europe over who controls their country. All of this is about greed and power as you have been told. Also this is about distracting the attention away from all the abuses going on in your government regarding the scandals. Your president and those behind the scenes want this war to happen. Oh, My children, so many radical changes will take place in the Vatican very soon. Please continue to say extra prayers especially the Rosary for your Pope's safety and protection. There will be so many people who will be persecuted for their faith. Don't believe anything you hear in the media regarding your Pope. They don't have the real facts and many things they say are made up. There is such a need for your prayers at this time. You will be shocked when you know the truth about what is happening in your Church.
I love you, Jesus.


March 10, 2014 (9:34am)
Tell My beloved children that sadly there will be a third world war. All this is being done for power, fame and greed. Your president thinks he can gain back his popularity by bringing peace back to the region. He is very dissolutioned since this will not happen while he is in office. He will soon be impeached and he knows it. He is trying to avoid this by distracting attention away from all the scandals he will have to answer for. My dear ones, please pray and fast for your holy Pope Francis. He is in a grave situation and needs your prayers. The men who want to destroy the Church have devised a scheme to get your Pope out of office. He is well aware of what they are doing and who they are. You would be shocked to know who these men are. Pray for their souls. Oh, My children, be prepared for more cold weather. The Lord is trying to wake you up by these drastic temperature changes but unfortunately the people don't get it yet.
Pray for the conversion of your country.
I love you, Jesus.

March 11, 2014 (1:03pm)
Tell My beloved children preparations are being made for the beginning of the third world war. I'm sorry to have to tell you this, but both sides are in the process of showing their power by bringing in more troops and ships into the area and surrounding areas of the conflict. These power hungry men are bringing all of this about in a show of self importance and vain glory. Oh, My children, remember you were told wars can be stopped by fasting and prayer, especially the holy Rosary. If enough of you would do this it would hold everything in suspension and the war could be stopped. There is so much that can be accomplished through these means. Again, My dear ones, you are being asked to pray fervently and as often as possible for the safety and protection of your dear and holy Pope. You can bring much solace and peace to him by your prayers. I am still counting on your prayers for your country and the man chosen for these times to lead your country back to God. These are trying times in deed and a lot depends on your prayers.
I love you, Jesus.

March 12, 2014 (1:17pm)
Tell My beloved children if enough of you fasted and prayed this third world war could be prevented. You must take these words seriously, My dear ones. There will be a third world war if you don't fast and beg God to forgive the sins of your country and the entire world. Satan has been waiting for an opportunity to destroy the world and this is just the beginning. Oh, My children, listen to Me, Jesus, I am begging you to believe these messages, and My plea for you, to heed them. Your sons and grandsons may be sent to war. The only reason for this war is the greed and thirst for power of two leaders. Thousands of lives will be lost. This doesn't have to happen. Fast, fast, fast, My children, and pray, pray, pray for this not to happen. Oh, My children, your beloved Pope may soon not be your Pope. Take these words seriously, My children. His life is in grave danger by those who don't want him to be Pope. They want someone they can control and use. If this happens, your beloved Church will have grave consequences that will affect all of your lives. These are terrible things about to happen as you have been prepared for. You must continue to have faith and trust in these messages. You will be told more in the messages to come. In the meantime, pray, pray, pray like you have never prayed before. I am with you forever.

March 13, 2014 (9:43am)
Tell My beloved children there are so many things to pray for. The most important intention is for your holy Pope Francis. I told you his life is in grave danger and he is well aware of it. He knows who these men are who want another Pope to take his place. This holy Pope has brought so many people back to the Church in just a short time by his example of humility and acceptance of sinners. You must pray and fast for him to be at peace as he a waits what he knows is coming. My dear children, praying for peace in Europe isn't enough you must fast if you want to prevent a third world war. This war if it happens will be more devastating than all the previous wars combined. My children, there is so much this president of your country is doing to provoke this war. He sends some of his Administration to Europe to stir up the people involved so they will act against your country. In the meantime your president knows there are men and women working constantly to get him impeached. When the time is right it will happen. It is then that the man chosen for these times will be put forward to lead your country. Everyone says this can't happen since he is not able to succeed this president according to the Constitution and how it prescribes the vice president or speaker of the house to follow. Believe Me, My children, it is going to happen. Don't try and figure out how, just believe and soon you will see for yourself the hand of God working in your country. Keep praying and fasting, My children. You are living in desperate times.
I love you, Jesus.

March 14, 2014 (9:40am)
Tell My beloved children there is so much going on between the two leaders involved in the possibility of a third world war. They are both showing their power and strength by putting troops and military on lines close to the region being affected and in the ships that are being stationed in the waters surrounding where the battle might begin. Oh, My children, if only enough of you would fast this war could be prevented. There is also a lot taking place behind the scenes in the Vatican. Please continue your prayers for your holy Pope Francis. Be prepared for anything that may occur. These evil men are ruthless. They hate the Church and all it stands for. They think this is their golden opportunity to destroy the Church once and for all. Of course you know this could never happen. Even if our Church buildings and institutions are destroyed the Catholic Church will last until the end of time when God allows it and that is not going to happen. Oh, My dear ones, you must stay in prayer so you can be at peace. These events are going to escalate very rapidly. You can see how fast things are going already. You just can't understand how everything is going so quickly. The weeks and months are gone in no time and before you know it another year has passed. You will be given information as you need it through these messages. Believe and trust, My dear ones. The enemy is prowling around seeing who he can cause to get discouraged and depressed over the condition in the world and in the Church. Be on your guard and remain cheerful in spite of what you see happening all around you. This can only happen if you are in prayer.
I love you, Jesus.

MESSAGE FROM THE BLESSED VIRGIN MARY, revelacionesmarianas, 2/23/14

My beloved, My blessing be with each one of you.

MY LOVE CONSTANTLY CALLS YOU TO REMAIN ON MY SON'S PATH.

REMAIN ALERT, DO NOT DISCARD MY CALLS, FOR I INTERCEDE FOR EACH ONE OF THOSE WHO ARE MINE BEFORE THE AUGUST TRINITY.

Beloved children, this period has opened the doors of the Great Tribulation; the Great Tribulation, with all its signs shows itself openly to all, and still you continue to be deaf, blind and mute like creatures ignorant of the Divine Designs and above all, ignorant that the Paternal House does not act without first warning its beloved human beings.

Children:

REMAIN ALERT, DO NOT YIELD TO HUMAN WILL, FOR IT WANTS YOU TO SUCCUMB.

REMAIN ATTENTIVE. HUMAN EGOISM CLOUDS THE BODY'S SIGHT AND CLOUDS SPIRITUAL SIGHT.

In this instant the malignant one stalks all My children with his diabolic legions, he absolutely tempts all to lead them to fall. IT IS AN INSTANT OF DECISION AND THE BATTLE BETWEEN GOOD AND EVIL IS STRONG, except that man, in his worldly path does not notice any sign, seeing it as something normal and My Son asks you to see the signs of this instant, preceding what is coming, which will be the most bloody thing this generation will experience, this generation that denies itself the salvation of its soul.

VIOLENCE INCREASES INSTANT TO INSTANT, you see it and you know that this is a reality and you know that this is a reality and even those defenseless peoples upon whom the hand of violence has never fallen, these peoples will suffer because of violence.

COMMUNISM HAS RESURFACED STRONGLY AND HAS SEIZED THE NATIONS without My children being conscious of it, they have ceded the government to communism, and the government in its desire for power, will lead you to suffer still more. The pain of My beloved People of Venezuela will rage and mothers will weep for their children.

Pray, pray for Venezuela, My children.

THE WATER STIRS, IT STIRS GREATLY AND WILL CAUSE THE COSTAL ZONES TO SUFFER. You know that the water, in its desire to purify the Earth, will enter it.

Pray, My children, pray for the United States, pray for the Philippines, they will suffer greatly.

My beloved, the Sun will penetrate the Earth strongly with its rays; thirst, not only of the spirit but of the body, will double.

Pray for My children of Africa.

My beloved:

THIS IS THE INSTANT OF AWARENESS, EACH ONE OF YOU MUST BE CONSCIOUS OF THIS VERY INSTANT AND MAKE THE DECISION TO ACT IN GOODNESS; evil does not wait and with its clutches it rushes strongly, prepared to make those who remain between doubt and the decision to leave what is worldly to absolutely be property of My Son, doubt.

THE CONSCIENCE OF EACH ONE OF YOU MUST REMAIN WILLING AND ACCEPT AND LOVE MY SON'S WORD -- IMMOVABLE, GIVEN FOR ALL AGES AND EVEN MORE TO BE PRAXIS FOR THOSE TRULY FAITHFUL TO MY SON.

REMEMBER THAT THE COMMANDMENTS ARE GOD'S LAW AND SHOW THE TRUE PATH TO REMAIN IN THE TRINITARIAN WILL. YOU, CONSCIOUS OF IT, DO NOT ALLOW THESE TO BE MODERNIZED. MY SON IS THE SAME YESTERDAY, TODAY AND ALWAYS.

My Son's Church will suffer, it will be tried, it will be invaded by new ideologies that do not commune with the true being of the Christian. Remain in grace so they do not lead you astray. My Son's Church will again be scourged by those who with a pompous finery commune with Her. Masonry has seized great power within My Son's Church and you, knowing the Divine Word, must take steps within the Trinitarian Will so that you are not seduced by blunders.

Beloved children:

UNITY IS ESSENTIAL IN THIS INSTANT, MINISTER TO ONE ANOTHER, DO NOT BE ASHAMED TO CALL YOURSELVES CHRISTIANS, RATHER FEEL WITHIN YOURSELVES THAT TO CALL YOURSELVES CHRISTIANS IS TO BE TRUE.

My beloved, continue to consecrate yourselves day to day to My Immaculate Heart and pray fervently for My Son's Church, in spirit accompany your brothers and sisters who are bereaved and suffering because of political unrest, which will spread to the masses, and My children will know pain through this way.

Nature does not suspend hostilities; it continues its path, advancing strongly and each instant that force will be greater throughout all the Earth and I, as Mother of each one of you, remain alert and My Holy Mantle covers you so that the instants of fear are minimized. Even so the willingness of each one of those who are Mine is essential, that pronunciation of: "YES, JESUS CHRIST, HERE I AM TO DO YOUR WILL AND LIVE IN IT." Whoever does not know My Son will be lost, and I, as Mother, suffer because of it. Do not scorn My Calls, every instant is an opportunity of My Divine Mercy, receive it quickly. My Son is coming soon and each one of you will give an account of the harvest he or she possesses in his or her hands.

Do not fear, I battle before each one of you. My Heavenly Hosts remain attentive and deliver you from great dangers, but it is necessary that you pronounce the Yes to My Son so that I, as Mother of Humanity, act to rescue you from the clutches of evil. Be true, do not waver so much that it is hard for you to come out of the mud.

TIME IS NO LONGER TIME AND IT NO LONGER EXISTS SO AS TO WALK SLOWLY. I LEAD YOU BY THE HAND, JUST ALLOW ME TO GUIDE YOU AND INTERCEDE FOR YOU.

I bless you and love you.
In the Name of the Father, of the Son and of the Holy Spirit.
Amen.

HAIL MARY MOST PURE, CONCEIVED WITHOUT SIN.
HAIL MARY MOST PURE, CONCEIVED WITHOUT SIN.
HAIL MARY MOST PURE, CONCEIVED WITHOUT SIN.

THE INSTRUMENT'S COMMENTARY
Brothers and sisters:
A People that battles without weapons, is a People who perish.
The man of this instant needs not only spiritual weapons but information in the Light of the Holy Spirit, so that with the spiritual weapons he is not easy pray for the enemy of the soul, who disguises himself in various forms to seduce him.
Awareness must be taken before the conviction of the ill-use and abuse of man before the attributes that God deposited in each one of us so that we would keep ourselves with well-being on Earth.
The goal is one, it is NOW! It is not in another instant and not for some, but for all. We Christians must step outside ourselves and give ourselves to others. What will the Christian who has lived without works and has abandoned his neighbor present before the Father?
Our example is Jesus Christ, who even on the Cross, in agony, did not want to cease preaching in any instant:

"Father, forgive them for they no not what they do"…
"John, here is your Mother, Mother here is Your son"…
"Today you will be with Me in paradise"…

This so that we not stop, this so that the Christian be a person of action, not only in his or her community, but beyond it.
Evil seizes souls, because the human being remains in spiritual ignorance.
Let us awaken those who are asleep, LET US WAKE OURSELVES UP!
Amen.

THIS HUMANITY OF THESE LAST TIMES IS THE MOST SINFUL AND DECADENT OF ALL GENERATIONS THAT HAVE EXISTED, AND IT IS ALSO IN WHICH MORE SOULS HAD BEEN CONDEMNED, ESPECIALLY YOUNG!

MARY'S, MYSTICAL ROSE, CALL TO HOUSEHOLDS SHEPHERDS
11 March, 2014 - 8:10 A.M.

Little children, may peace of God be with you all

O, how sad feels my heart seeing the moral, social and spiritual degradation in this sinful and ungrateful generation! Parent of family, you are the shepherds homes; your children are getting lost for your complaisance and lack of character! How much have changed households, children are now who command in it, because parents have forgotten to exercise authority with their own families.

Parents, remember that home is the first society, it is at home where should lay the foundation of love, respect, obedience, discipline, honesty and above all fulfillment of divine precepts, which are the foundation for healthy human coexistence. O, parents give love, but not a materialized or condescending love which turns in loss of values! Remember that love is essentially a set of little details where prevails foremost respect and obedience to parent's authority.

Parents do not condition your love or confuse it with material things! Love is also corrections, and you should inculcate moral and spiritual values in your children. I tell you, parents of families, if your households are away from God as spiritual bulwark, and they are just places to rest; if you, parents, do not teach your children to fulfill the divine precepts, neither inculcates in them a healthy, moral and spiritual doctrine, and in addition, you do not give them a good example, then I ask you: why you complain about? And why are you now scandalized of their behavior, when you already have your hands out of their education? The lack of dialogue, love and understanding in your homes are the result of these decadent societies.

Home is the first foundation, where others societies will be built it; if moral and spiritual bases of your homes are weak, the new society of families, that your children will form tomorrow, will be also weak. The failure of your children, it is your failure. Parents, I exhort you to take control in your homes as soon as possible; I beg you from the bottom of my heart that bring God to your homes and retake the devotion to my holy rosary, give good example to your children and do not pander more. For your pandering and lack of love this mankind is as it is in decadent.

Lack of love and dialogue in your households, parents, is affecting healthy human coexistence. This humanity of these last times is the most sinful and decadent of all generations that have existed, and it is also in which more souls had been condemned, especially young! Wake up, parent of family, from your moral and spiritual lethargy! Come back to God, teach moral and spiritual values in your homes, love your children, and regain control of your families. 'The awakening of consciences' is coming and you must give account to my Father for your herds. Reconsider parents, because you are God's representatives before your children. Do not forget that love is foundation of forgiveness and healthy coexistence, without love there is not life.

Thy mother, who loves you: Mary, Mystical Rose.

Make known my messages to all mankind.